Why bother with the classic remote control cars and airplanes when you can now control your very own flying fish or shark? Known for their wide variety of toy collection, the William Mark Corp. definitely turned heads on as they launched their Air Swimmers toy collection in the middle of the Toy Expo Hall last February 2011.  They definitely turned the entire hall into an aquarium with flying fishes all over the area.
As a matter of fact, we have a video of it right here.
Here's a highlight of the 2011 New York Toy Fair
Air swimmers are big remote controlled toy fishes like the Air Swimmer Shark that are able to swim through the air using life-like motion. These remote control toys are helium filled inflatable balloons with fun remote control systems. The infrared remote offers users complete control of up, down and even 360 degree movement. And you don't have to worry about bumping your fishes to the wall. The Air Swimmer toys will easily bump back on course. The toy is made up of durable nylon material that can hold the air for weeks, even much longer compared to the traditional balloons. And once it deflates, users can easily refill the helium gas over and over again. The current shapes for the Air Swimmer remote control toy systems include the Air Swimmer Shark and the Air Swimmer Clownfish.
Air Swimmer Shark Features
Controller function: infrared
Range: up to 40 feet
Length: 57 inches
Height: 36 inches
Remote functions: descend, climb and fin/tail control
Blue gray color
Air Swimmer Clownfish Features
Controller function: infrared
Range: up to 40 feet
Length: 57 inches
Height: 36 inches
Remote functions: descend, climb and fin/tail control
'Nemo' appearance
How does it work?
The Air Swimmer Shark is an infrared radio controlled, nylon based balloonh.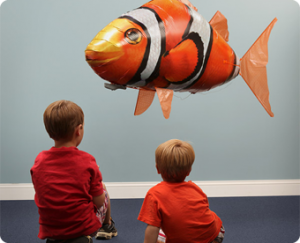 All you need to do is fill it with helium from your own canister or purchase helium gas from a part store or places that sell helium balloons. These highly innovative toys remain inflated longer compared to the regular inflatable balloons. A simple type of 1.5 volt AAA powered motor is attached to the plastic pod located at the bottom of the balloon. Its accompanying controller utilizes an infrared reception to help it control the rudder's navigation and speed. You get a handy remote control to help you pilot the Air Swimmer and manage its speed and maneuverability.
Some of the practical jokes that can you pull out from these toys are:
Flying into the living room while your parents are viewing Jaws
Waking up your sister with a killer shark attack
Pretending that you are living under the sea while in a Skype video chat
The Verdict
The Air Swimmer Shark and Air Swimmer Clownfish are modern day toys that truly take the toy industry to the next level. These innovative toy creations are awesome kiddie party additions that will add more fun and excitement to your event. Currently priced at $26, AirSwimmers.com only sell to distributors and retailers.
or you can buy it at Amazon for $24.
Most people like the Air Swimmer Shark the most.