Air Swimmers Shark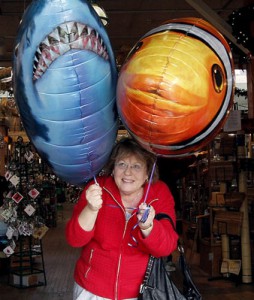 The Air Swimmers Shark is the most popular fish of the air swimmers family right above the Angry Birds Air Swimmers.
It's a toy invented by the William Mark corporation, a company specialised in flying toys.
How the Air Swimmers Shark Works
Helium
It's a balloon in the form of a shark filled with Helium which allows it to float in the air. Its one-way valve allows for easy filling, emptying, and re-filling. Helium in a disposable tank is often diluted with other gases. Be sure to get the non-diluted helium tank. A fully inflated Air SwimmerTM should last a little more than a week.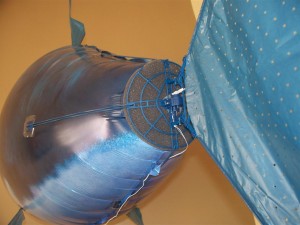 Air Swimmers Shark Tail fin Motor
A 1.5-volt AAA-powered motor lets you move the tail fin back and forth to smoothly propel your fish through the air. The accompanying controller uses infra-red reception to control the tail rudder's speed and navigation.
Under normal conditions the range of the controller is between 30-40 feet if pointed at the receiver on the Air Swimmer, but can go up to 50 feet under ideal conditions.
Please note that it is not ment to be used outside. The sun will heat the balloon, causing it to gain more lift and fly away, where it could get tangled in power lines, distract drivers, or confuse ichthyologists
Where to buy Air Swimmers Shark
The William Mark corporation distributes it products through Amazon.
Be aware of the cheap knock-off products: Most of them aren't from a printed 'ultra-durable nylon' that is thicker and more damage-resistant than normal party balloons.
AmazonBasics AAA Batteries and Helium are not included so don't forget to buy them too!
Air Swimmers Shark Assembly guide
Finally, we at airswimmersworld made an awesome assembly guide to help you with the first steps. It is one ment for adults as the assembly of Air Swimmers Shark can be a little hard for young kids.