Modding Air Swimmers

Welcome to the Modding Air Swimmers guide.
Air Swimmers are one of latest and trendiest toys. They are inflatable fish in the shape of a Clownfish and a Shark.
They are inflated with helium and float in the air.
These toys are remote controlled and you can get them to swim in the air just like a real fish. With the remote control it is possible to get these fish to make turns and even get them to go up and down. The air swimmers are originally equipped with infra red remote.
But like any toy which is available in just two types and two colors the urge to make your toy unique is strong.
Luckily Modding Air Swimmers is actually quite simple and easy and also limited only by your imagination.
What's the point of Modding Air Swimmers?

Modifying your Air Swimmer will give you a one of a kind toy quite different to anything on sale. One of the things you could do for an Air Swimmer mod is to try and replace the infra red remote control with a radio controlled remote giving your Air Swimmer a longer range and will make it easier to control.
On a Budget

On the cheaper side of Modding Air Swimmers.
Try giving your Air Swimmer a pair of glasses. You could make these out of craft foam and glue them on the fish's head. You could also cut thin ribbons of thin green plastic or green paper streamer and tape them on the belly of the fish, this will make it seem that the fish is floating through a bed of weeds. While blue light weight plastic will look as though it is swimming in the water.

Modding Air Swimmers fins will give your fish a different look. You could even experiment with the tail and give it a larger tail, this would increase the speed of the air swimmer.
The Sky Is NOT The Limit!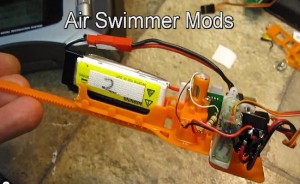 When you put your mind to it there are so many ways that you can make your Air Swimmer unique and one of a kind. You just have to think a little outside the box and be creative. Any Air Swimmer mod that you can come up with will make your fish different than the others. You just have to be careful and use very light weight materials so that you do not make your Air Swimmer too heavy which would affect its floating characteristics.
In Conclusion
Just because a toy is available in two models and two colors does not mean that you have to be stuck with a toy just like everyone elses. Be creative and with a great imagination and an Air Swimmer mod or two you can have a one of a kind Air Swimmer.
We hope you enjoy Modding Air Swimmers!