Price: around $50
Manufacturer: William Mark Corporation
Recommended age range: over six years old
Pirmary use: Indoors
Runtime per charge: 20+ minutes
Package includes:
One Air Swimmer Shark or Clownfish balloon
Remote Control
One AAA Battery
One 9 Volt Battery
Instructions

*Requires Helium, which is sold separately*
Air Swimmers Review

Here's the start of the Air Swimmers Review, and upon first glance of the flying fish, you may think that it has a cheesy concept (you know, blimps flying around shaped as a fish). But when you look closer you'll then realize that these so called "Blimps" are actually swimming life-like in the air so gracefully that it intrigues you to want to learn more about them.

Now the Air Swimmers are pretty big (5 feet long) so of course it won't be inflated when you buy them at the store.

You will need to buy your own Helium, which can be found at a bunch of party supply stores or florist shops.
Air Swimmers Review Accessories

When you first open the box you'll see a bunch of pieces that might intimidate you because of how unfamiliar they are. But don't stop there, you can either watch the tutorial here (We have a bunch of video tutorials on setting up the Air Swimmer Shark and Clownfish just in case the instruction paper doesn't cut it for you) or you can even take a look at the page scan just in case you lost your paper.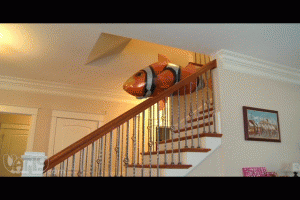 The air swimmers have no propellers, it swims through the air in a motion that a fish would in water. Judging by its fin speed, you can either move the shark or clownfish faster or slower by moving the fin back and forth repeatedly. The cool thing about that is that the body will tend to rock side to side the faster you go which resembles an actual fish swimming against a current of some sort. You can turn left and right easily but since there's no "Forward" button available on the remote control, you'd have to go left, right, left, and then right.
The podtrack on the bottom of your Air Swimmer Shark or Clownfish slides forward and rearward at your command and changes the center of gravity on your fish and it makes it tilt either up or down. This RC flying fish is very life-like so if you try to "Swim", it'll go slightly up or down at an angle, whichever way your podtrack is shifted.
This product's is a 10 out of 10. I'm honored to do this Air Swimmers Review.