Air Swimmers Mod 2.4 Spektrum with Weight Transfer

All Credits go to NightFlyyer for setting up the Air Swimmers Mod 2.4 Spektrum with Weight Transfer and showing us how he did it.
Air Swimmers Mod Overview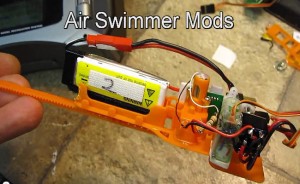 "I love the Air Swimmers and even have been getting prepared for the next race. But I was not happy with the Infra Red controller, as I kept aiming it towards the ground and loosing control. It also gets interferred with by others, including the Fluorescent lights. So I decided to put in one of the inexpensive Orange Receivers from HobbyKing.com and change to digital proportional control. ToysRUS sells a radio version, but still it's only 40 Mhz. I wanted Spektrum.
So the setup I designed for the tail fin works great, but the weight transfer system turned out to be just 12 grams too heavy and disappointing. Just a slightly bigger fish (more helium) would fix this, however. It's not really the Air Swimmers Mod problem.
Therefore, I decided to see if I could completely re-design the Air Swimmers Mod it to keep it simple and light. It now works very precisely, as you will see. I can easily guide it around with more control and the comfort of a real transmitter. (Synchronized Swimming)
I hope you enjoyed seeing this video and what a person can do if they set their mind to it."
You can get Orange Receivers at Hobby King
Have fun with your Air Swimmers Mod!