Air Swimmers Fins Mod Introduction

Hello fellow Air Swimmer Fans, this is it!
It was only a matter of time until someone made an Air Swimmers Fins Mod.
Well we're getting close to seeing something BIG happening.

But other than the Air Swimmers Fins Mod we don't really have a large number of hacked or modded Air Swimmers out there in the world (But it's out there).
Like The couple of knockoff mods on our site using the Spektrum DX6i.
Hopefully we'll see more mods in the future -actually I know we will!
So What is the Air Swimmers Fins Mod?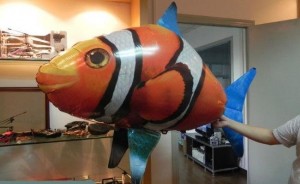 The Air Swimmers Fin Mod is the simplest mod to create. All you have to do is buy a clownfish balloon and switch the fins to Shark fins . You can either build it, or buy a pre made set sold somewhere online.
Now the Air Swimmers Fins Mod isn't really a "Mod", it just changes the appearance of your balloon so it can fly with uniqueness.
Why mod such a good product?

This is a very good product indeed, but the product sprouted from an idea in which was formed from numerous experiments over time and who knows when they'll release a new line of Air Swimmers. So in order to entertain ourselves while we wait, we'd have to tweak a few things so we won't get bored. This is why we came up with the Air Swimmers fins Mod.
-That and The Air Swimmer Racing Events is getting even more popular as each day floats by!

This gives us even more of a reason to Mod our Sharks and Clownfish in order to win the race!

Note: This won't help you win a race but it'll make you stand out by using this Air Swimmers fins Mod.