Never Heard of The Mega Fliers Big Mouth Bass?
For those who are aware of the Mega Fliers Big Mouth Bass existence would automatically come to the conclusion that they are the Air Swimmer shark and clownfish's little cousin. The company who actually makes them aren't as popular as the William Mark Corporation so they don't sell as much (plus the material of the products is more so on the lower quality end than the Air Swimmer Shark and Clownfish).
Although the quality is lower, that doesn't mean that you shouldn't buy it. Any air swimmer fan would want to collect as much flying fishes as they can.
In fact, buying a mega fliers product would be a great idea for those who want to practice with modding and such because if you screw up, it won't be that much of a big deal because mega fliers retail at a much lower price than the Air Swimmer products.
Different Types of Mega Fliers Fish Other Than the Mega Fliers Big Mouth Bass

Now the Mega Fliers have 3 different fish balloons, one of them being Giant Great White Shark, the other is the Clownfish, and the last but definitely not least is the Mega Fliers Big Mouth Bass.
Now I would actually get the Mega Fliers Big Mouth Bass and add it to my collection (maybe tweak it out with the Air Swimmer Clownfish and Shark to make the ugliest but most unique fish floating out in the world today).
Replacement Balloons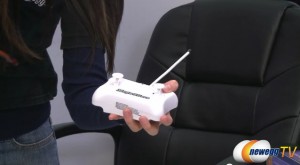 Mega Fliers sell replacement balloons that is made to fit the Air Swimmer Products without a problem, so if your balloon rips or blows up because you accidently pressed the self-destruct button (just kidding), you can buy a replacement shark or Clownfish balloon from mega fliers for only $6.
Oh and don't worry, the Mega Fliers Big Mouth Bass is also made to be tweaked out with air swimmers so you shouldn't have a problem adding air swimmer mods to this fish.

Have fun with your Mega Fliers Big Mouth Bass!