Ask Blake English, Inventor of Air Swimmers

While the Air Swimmer shark and Clownfish is getting popular each day, TDmonthly Magazine decided to interview the inventor of the Air Swimmers idea for us air swimmer fans.
A little about Blake English:

-Blake English Won the Rising Star Inventor of the Year TAGIE award
-His undergraduate degree is in Product Design (2009) from Stanford University
-Blake English has a graduate Degree in Mechanical Engineering: Robotics (2010) from Stanford University
How It Air Swimmers Started

Blake English came up the idea of the Air Swimmer Shark by visiting an aquarium believe it or not.
He spotted a few sharks that seemed like it practically "Flying" through the water.

Blake liked how they moved in the water so he came up the idea that it could also be done outside of the water.
And boom, Air Swimmers was born.

It took over three years to make this idea come to life.
During the first year, the idea was just a thought in the back of his head.
After that year, Blake started working on prototypes that took an additional two years or so.
How Much Money Did It Cost

I know that the Air Swimmer Fans are wondering how much money it to create the prototype. Here's his exact answer:

"Air Swimmers cost more to develop than any other product I've worked on. Many 10's of thousands of dollars were spent on development and prototyping."

Geez, I guess you really do get what you pay for huh?
Although Blake English has a high R&D budget due to being in a Forward looking Development Company, it's still a lot of money.
A Step Into The Toy Industry

Blake first got involved with the Toy Industry at a family holiday party, where he met Mark Forti the president and owner of the William Mark Corporation. They talked about a product he was working on and Blake was able to solve a few engineering problems; He then hired him on the spot.
The product became very successful, ever heard of Flitter Faries?

Blake English has an expanded vision on products in the Toy Industry. He's always looking for originality, creativity and most important of the all…Fun.

"Coming up with ideas is not a problem we face. We have way more ideas than we can possibly turn into products. We have scrapped great products because we have invented better ones. A large part of my background is in 'Design for Manufacturability'
and I am constantly thinking about how a potential product will be produced. Doing this in the first step of the process helps to eliminate headaches down the road, but does sometimes hamper creativity. Many excellent products had to be scrapped because they were not easily and readily manufacturable.
That isn't to say that we don't push the limits of manufacturing; we do that all the time. Flying products must be extremely light, which poses a challenge additional to the ones I already mentioned.
We never work on a product that is similar to anything in the marketplace."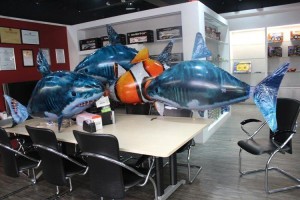 Last year, TDmonthly interviewed Blake during the toy fair and asked if he expected to see such a large response to his product since the Air Swimmers popularity was growing by the second.
He responded with: " I loved the product from the moment I thought of it. I still do. However, the big question that needed to be answered was, "Will other people like it as much as I do?" When you have worked on something for years, you get too close to it to have an objective opinion about it. I had no idea it would generate as much buzz as it did, but have to say I wasn't surprised. The unknown had been answered when I saw people looking up in wonder, and smiling."
Blake English hopes that his one of his toys will instill self-reliance and confidence in some of those that play with it. However, not every toy needs to inspire children to be more creative, smart, or healthy.
Each one of Blake English's product is unique and inspiring and he tries to design products that are unusual in some sort of way but won't do a close variation to something that is already in the marketplace.
The top advice he received in his life was "The best way to have a good idea is to have lots of ideas" – Dr. Linus Pauling
Pauling didn't tell him this in person but this quote is the best advice he'd received since it's very relevant in what he's doing.
Advice to other aspiring toy and game designers
"Find the story behind your product. Find lots of stories and pick the best one. The product is only an accessory to the story you are trying to tell. Once you have a good story, selling the product will be no problem."
That's some good advice from Blake English!