If you are searching for an original, unique, remote controlled toy, then look no further to the Air Swimmer Clownfish or Air Swimmer Shark toy. These huge flying toys are easily manageable even in tight spaces. Users can move the toy in three available dimensions or perhaps, move it up on a staircase. Designed by Stanford alumni who got the idea from seeing fishes in the aquarium, Air Swimmers has already been voted as Toys R Us' Top Gadget for the Year 2011. Today, Air Swimmers are among the most sought after innovative toys in the upcoming holiday season. It is definitely something that is enjoyed by kids and adults alike.
How Did The Air Swimmer Shark and Clownfish Come To Be?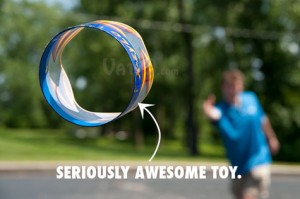 Ever since 1992, William Mark Corp. or WMC has always been committed to developing innovative, high quality products geared towards flight performance. As the makers of the Air Swimmer Shark and Clownfish, WMC also had a rough start. It all began when Mark Forti, a junior in Baylor University Texas created the X-zylo, a flying gyroscope that has been thrown to the length of up to two football fields. Mark then took the toy to his dad, William, who also worked in an aerospace company during that time.
Through the years, WMC has maintained its promise to developing revolutionary and fun air based toys that adults and children will love. The company has already produced several patents including the Maple Seed Copter, Blaze Ball, Spitwad Launcher, Glider Jack and so much more. It was only in 2011, that WMC introduced the Air Swimmer Shark and the Air Swimmer Clownfish.
Air Swimmers Product Specifications:
Remote controlled shark or clownfish design for indoor fun
Floating balloons that move up, down, 360 degrees and up to forty feet away
Balloon needs to be inflated by helium gas. A single toy can stay afloat in air for up to two weeks and may be re-inflated over and over
Needs four AAA batteries
Measures 36 inches tall and 57 inches long
Perfect for kiddie parties, family reunions and fun office events
Setting Up the Air Swimmer Shark and Clownfish
Setting up and assembling an air swimmer Shark and Clownfish takes a lot of effort and patience. But as soon as you have pulled it out together, it is up for good. We feature a video tutorial on how you can assemble their products and tips on how to make it last for long. When it comes to filling it in with helium gas, you can purchase a small tank of helium or have it filled at a party store or a florist. The helium gas slowly escapes the toys, just like a normal balloon, but lasts for weeks or so.
Durability and Maintenance
The Air Swimmers are fairly durable toys. They are made with light and durable nylon materials. The Air Swimmers are made to fly and suspend in air and may not move very fast, so you shouldn't have any problems breaking things or crashing the toy. Individuals who are living in high altitudes (5,500 feet above sea level) should keep in mind these toys may not work in their area.
Remember to have fun with your Air Swimmer Shark and Clownfish!