The Air Swimmers Whale is a new member of the flying toy family. This toy is a must have if you simply want to fly and watch something that will gracefully swim across the room without scaring people like the other members of the Air Swimmers family.
Air Swimmers Whale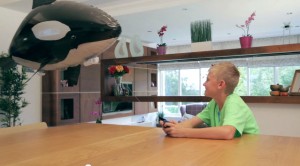 You can get the Air Swimmers Whale at a cheaper price when it comes to the holiday season and you might be able to find that all the Air Swimmers products are around half the price at toys r us. If it's your first time seeing the toy, don't let the picture on the box fool you; the balloon is huge and best of all, it's easy to set up.
After you set up the whale, the swimming movement of the toy will resemble a real whale. Since whales usually move slowly like they are on cruise control, then it's safe to assay that this toy isn't made for races.
Air Swimmers Whale at Toys R Us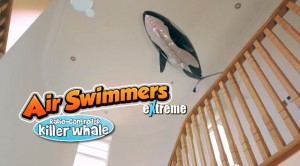 The Air Swimmers Whale can be purchased on Amazon and at toys r us. Not many people make replicas of the whale because of the way its tail is positioned. If you run into replicas, make sure that the position of the rear fin is positioned downwards so that when it swims, the tail will move up and down rather than side to side like the other Air Swimmers models.
The Air Swimmers Piranha is the upcoming product that will genuinely be used for pranking because of its scary features. The Air Swimmers Whale can also be used for pranks but it would be funnier to watch someone get scared out of their pants by a huge creepy looking creature than a beautiful elegant whale.
The Air Swimmers Whale just came out in stores so be sure to grab some for yourself.